Minty Spring Rolls With Microgreens and Rice Noodles
Prep: 30 minutes
Makes: 4 spring rolls
Looking for a seriously delicious summer snack? Look no further. These spring rolls are oh so refreshing thanks to mint leaves and of course your freshly harvested HAMAMA microgreens!
---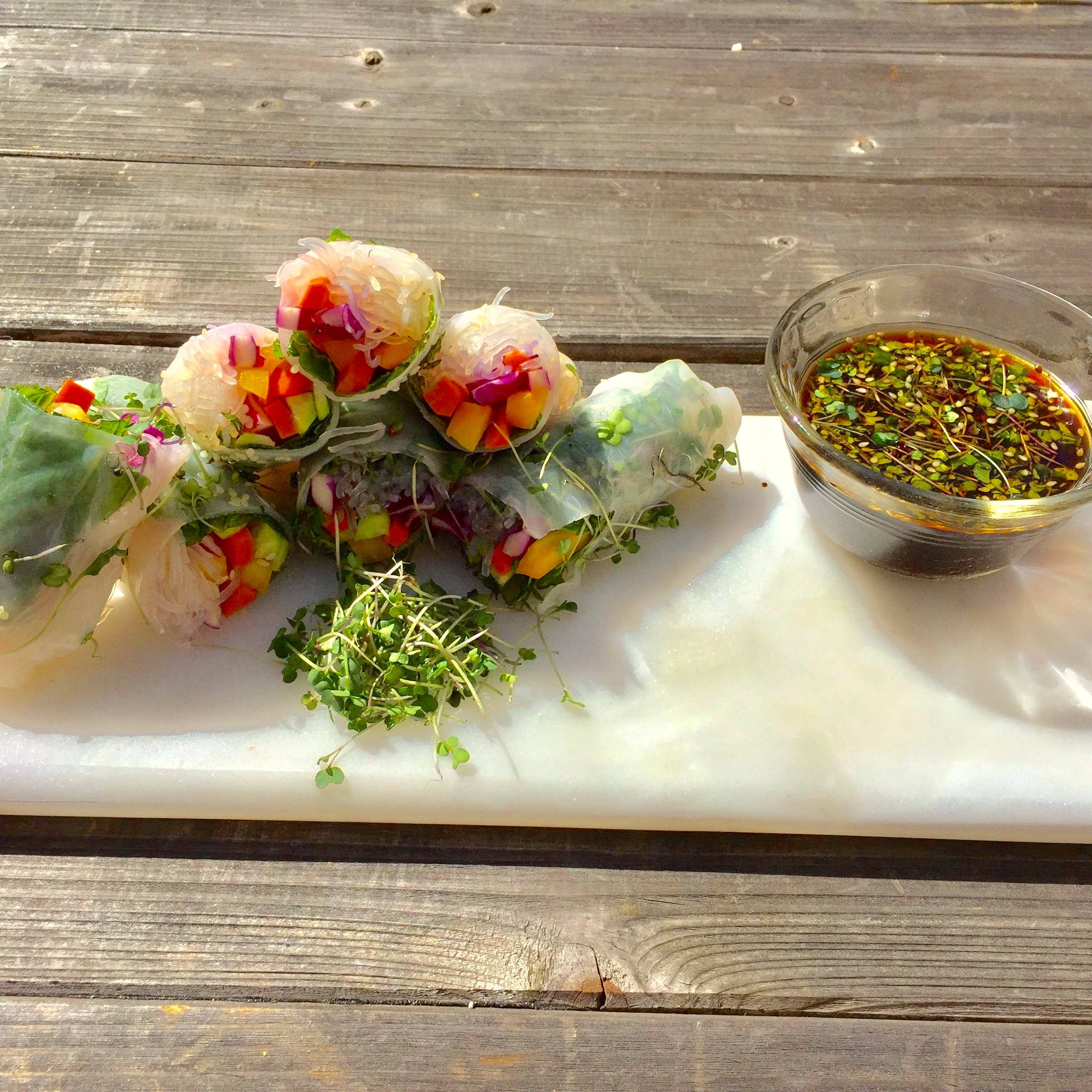 Ingredients:
Spring Rolls...
- 4 rice paper wrappers
- 2 cups rice noodles
- 1 cabbage, julienned
- 1 carrot, julienned
- 1 cup fresh mint
- 1 cucumber, julienned
- 1 yellow bell pepper, julienned
- 1 cup freshly harvested HAMAMA Salad Mix microgreens
Soy Ginger Dipping Sauce...
- 1/3 cup tamari sauce
- 1/2 lemon, juiced
- 1 tbsp rice vinegar
- 1 tbsp sesame oil
- 2 tbsp crushed ginger
- 1 tbsp sugar
- 1 tbsp sesame seeds
- Handful HAMAMA Daikon Radish microgreens
Instructions:
1. Wet the rice paper wrappers and lay on a cutting board.
2. Layer cabbage, carrot, cucumber, mint, rice noodles and HAMAMA Super Salad Mix microgreens on the rice paper wrappers.
3. Fold two sides of the rice paper wrap over the ingredients, then roll!
4. Pour tamari sauce into a small bowl. Stir in lemon juice, rice vinegar, sesame oil, sugar, ginger, sesame seeds, and HAMAMA Spicy Daikon Radish microgreens - you have your soy ginger dipping sauce!
Dip spring rolls into the sauce and enjoy your delicious creation!
Jonah Goodman
Jonah is a recipe developer, food photographer and clean diet expert. More of his recipes can be found on his Instagram.
Leave a comment
---
Also in HAMAMA Blog
Liquid error (line 350): Could not find asset snippets/blog-sidebar.liquid