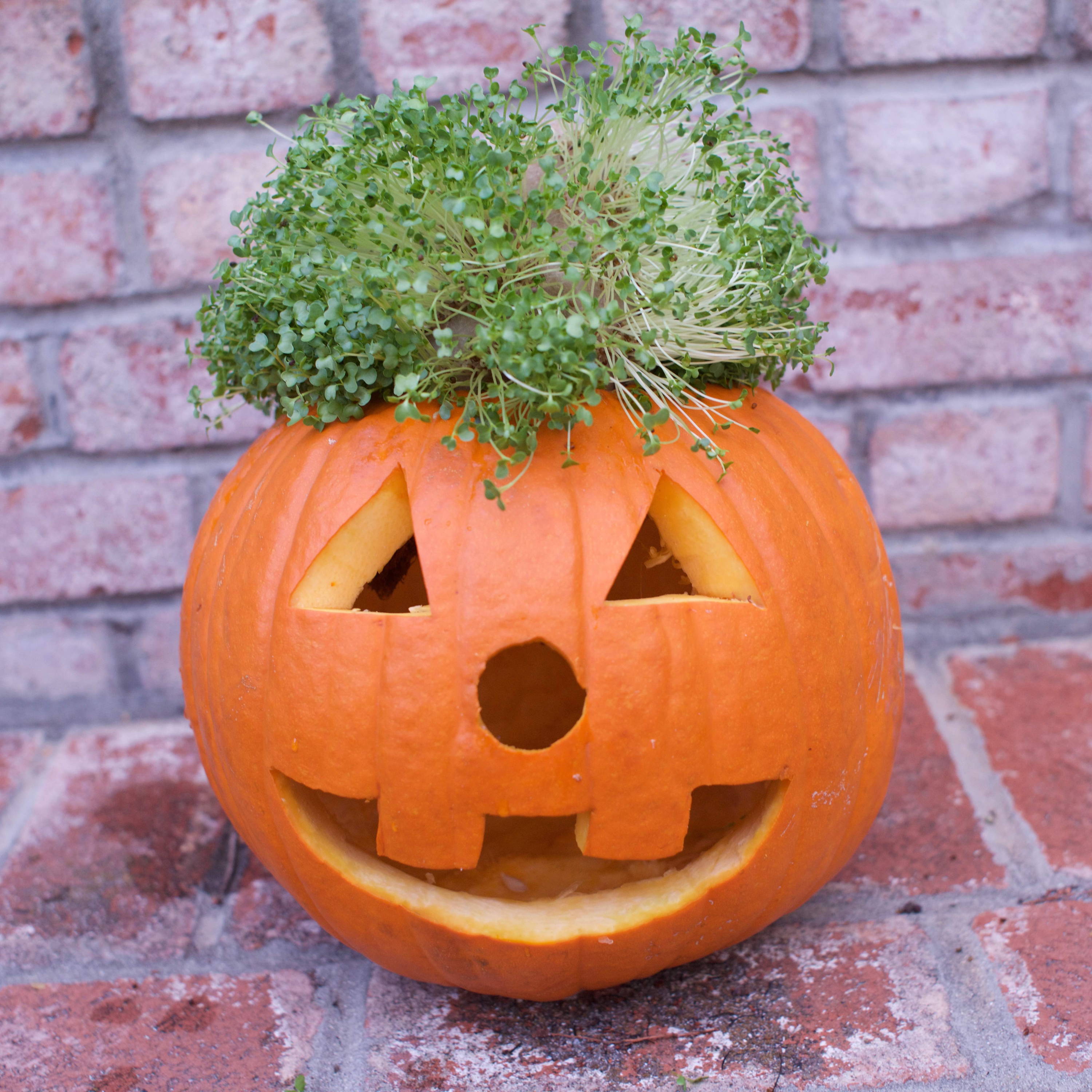 Think HAMAMA is staying out of your Halloween festivities?! Think again!

From pumpkins to costumes, HAMAMA is going to be an essential element for Halloween this year. It's time to make it a little less about sugar and a little more about greens, gardening, and HAMAMA silliness!
Let's dive into the two simple HAMAMA how-to's for a successful Halloween.
Step One: The HA-HA-HAMAMA Pumpkin
This year, it's all about jack-o-lanterns with a good head of hair. There's no excuse for bald pumpkins now that you're an expert HAMAMA grower. Luckily, you've got 6 hair types to choose from. Grow a Refreshing Cabbage Seed Quilt so your jack-o-lantern can have punk rock purple locks. Grow a Sweet Wheatgrass so your pumpkin can flaunt a spiky 'do. Experiment with Energizing Kale, Hearty Broccoli, Super Salad Mix, and Spicy Daikon Radish stylings too.
To achieve the Chia-o-lantern look, simply remove your fully grown Hearty Broccoli Seed Quilt from your Grow Kit and tuck both ends into the top. Stuff the front edges down behind the "forehead" to complete the look.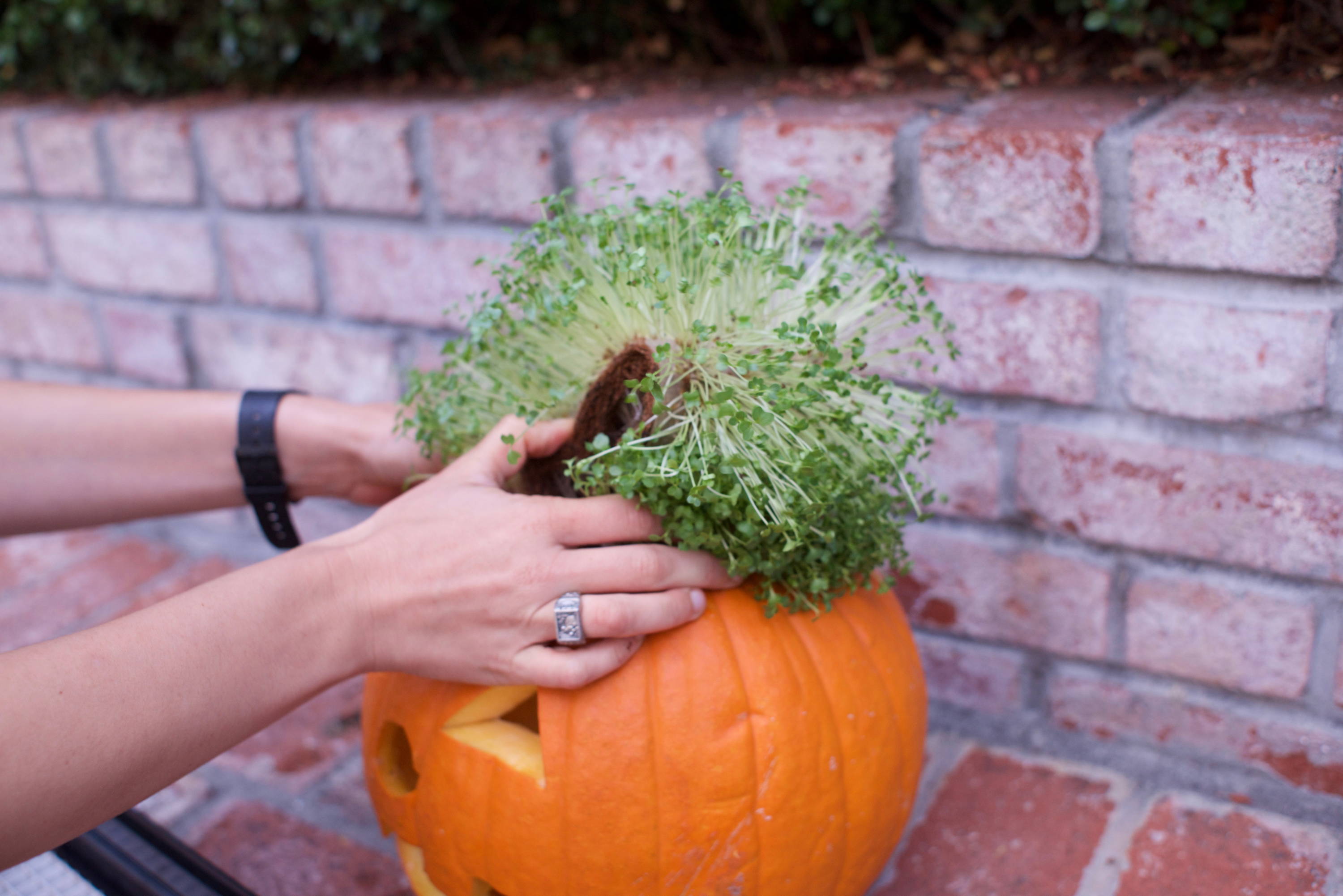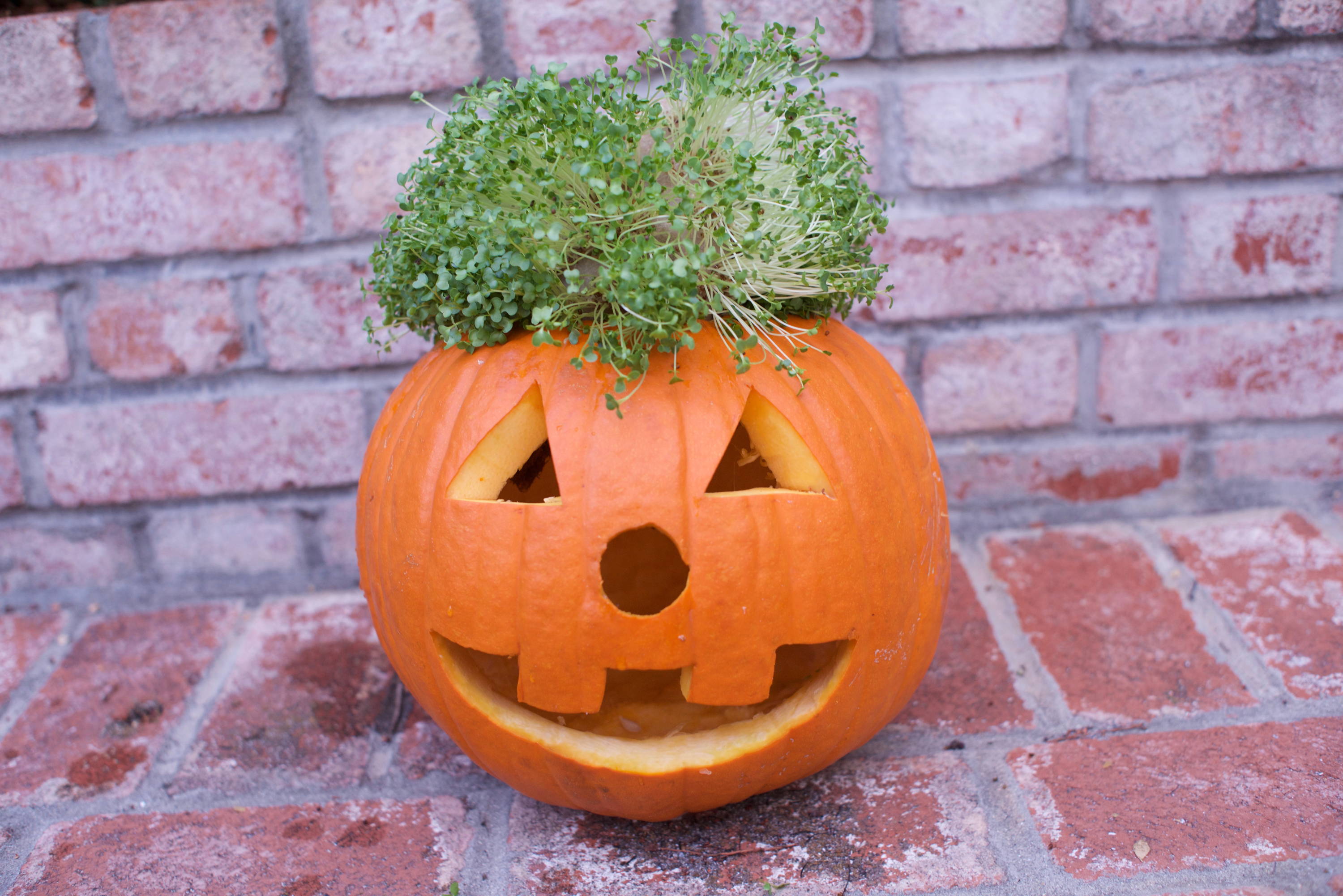 Next up: the Cockatoo. This look requires your fully grown Sweet Wheatgrass Seed Quilt and an optional colorful gourd to serve as the cockatoo beak. Tuck Seed Quilt into the top and style hair as desired. Pigtails are always a winner.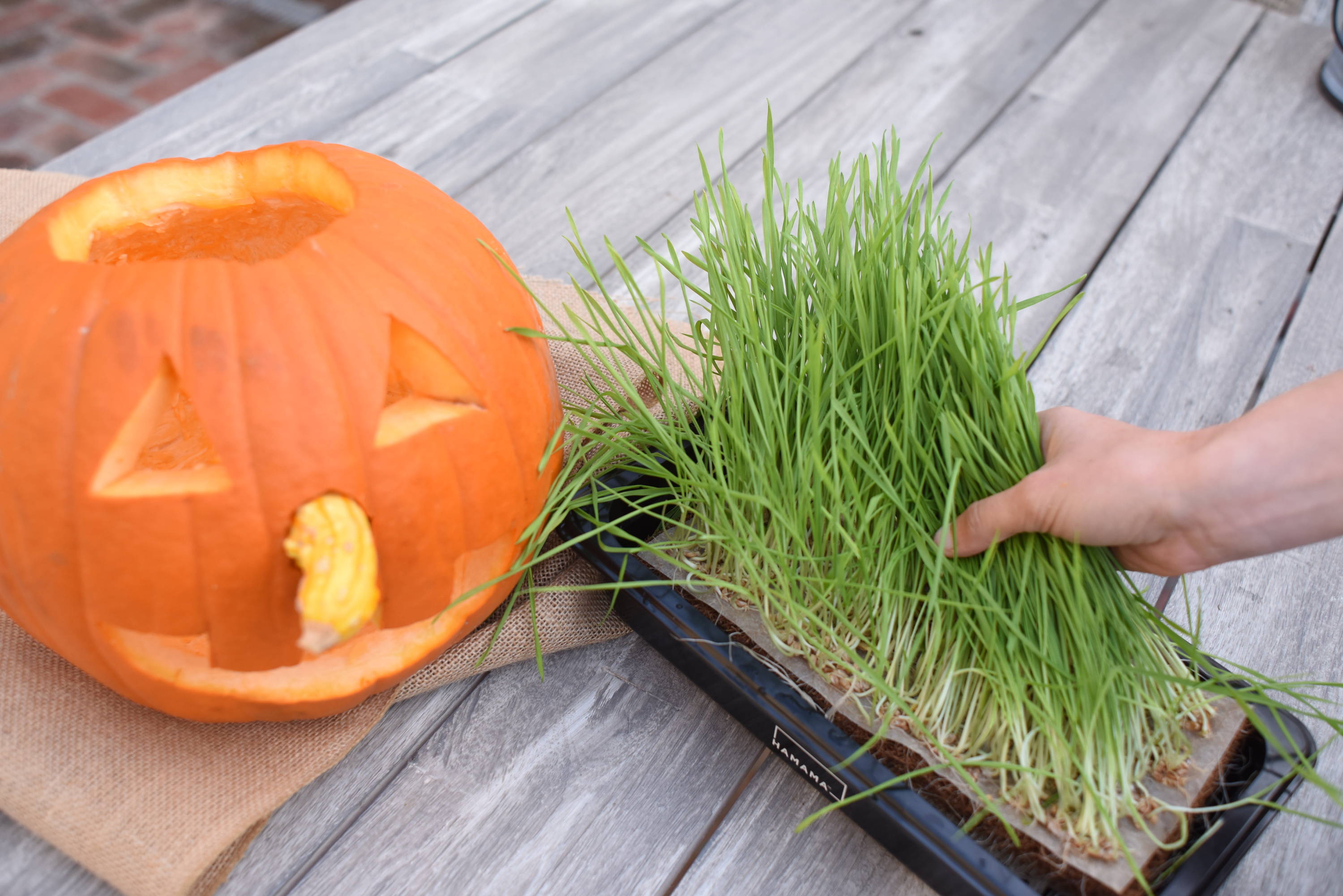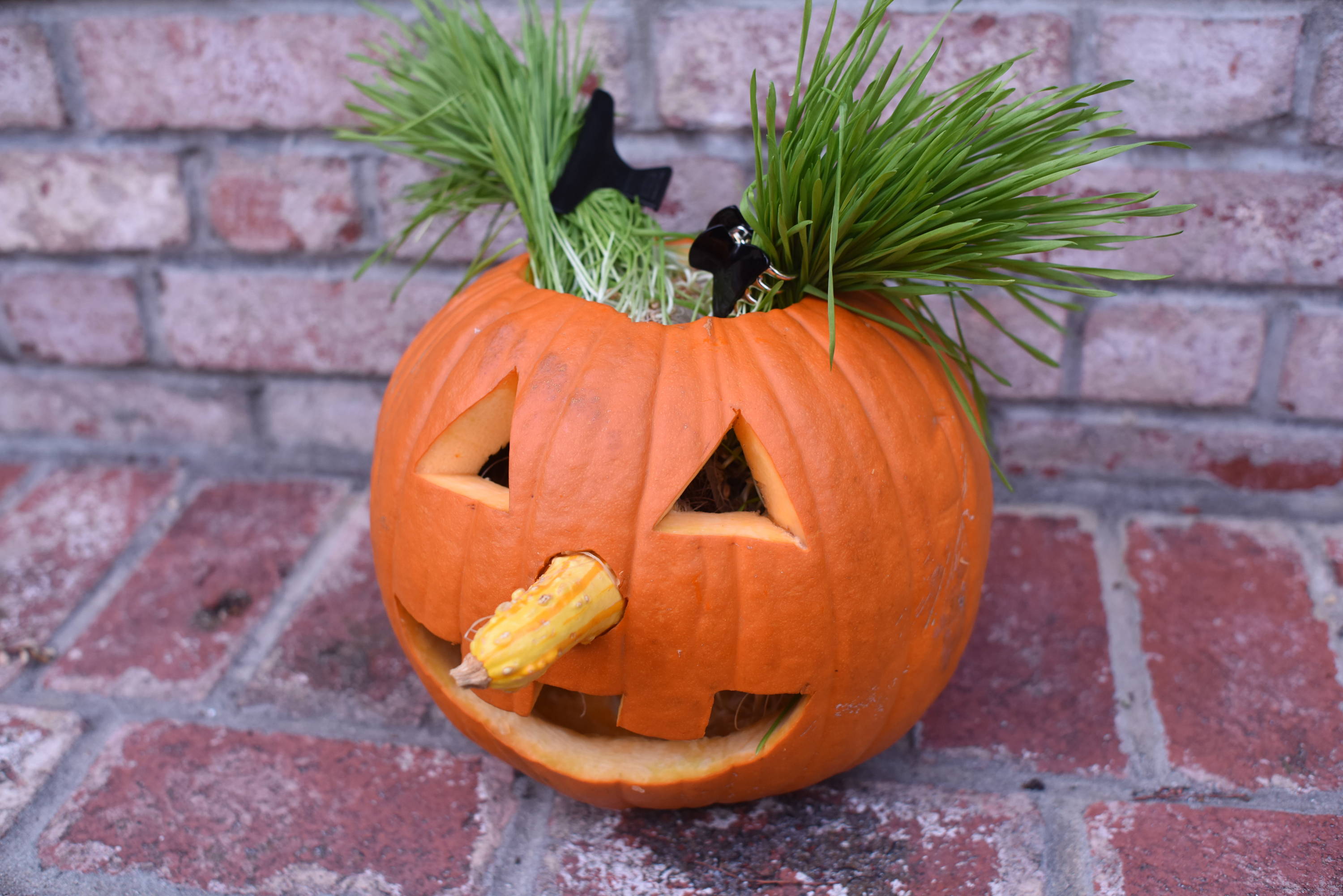 The options are endless, folks. We can't wait to see how you style your jack-o-lanterns this year. Don't forget to share with us on Instagram @hamama_greens and tag with #hamamahalloween!
Step Two: The Grow-It-Yourself Costume
I bet you've never grown your own Halloween costume! Be the life of the party this year with a living costume! HAMAMA Co-founders Camille and Dan took up the challenge themselves to get you excited about the possibilities. Camille traveled to the International Space Station to model her Space Farmer costume, and Dan traveled to the Redwood Forest to show off his Exceptionally Accessorized Park Ranger costume. Read on for the fundamental how-to's of making your own HAMAMA-grown costume!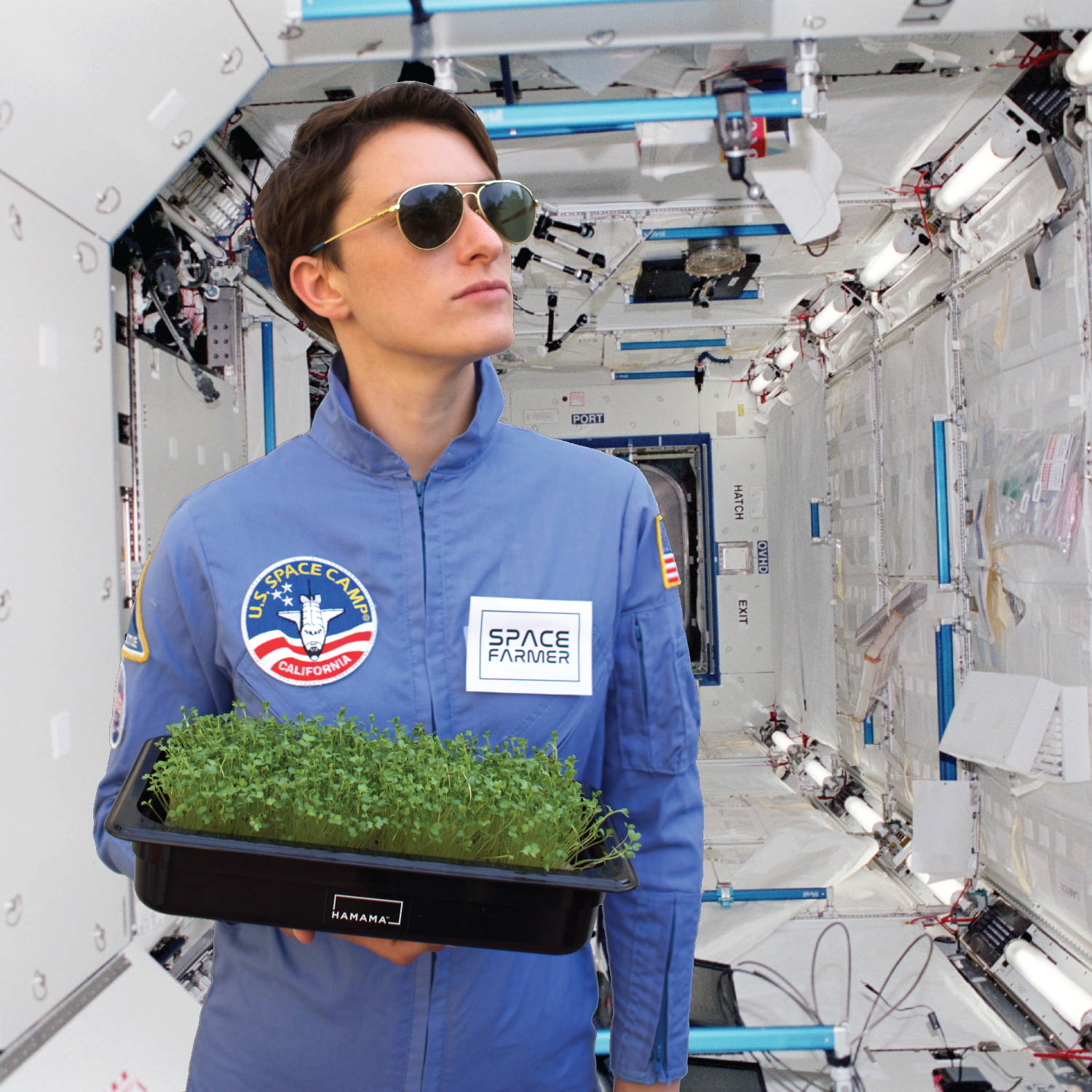 Camille's Space Farmer costume was pretty easy to pull off. Getting to the International Space Station was the hard part.
All Camille had to do for this costume was find a cool space camp jumpsuit, print out a "space farmer" name tag, and grow an Energizing Kale Seed Quilt in her HAMAMA Grow Kit.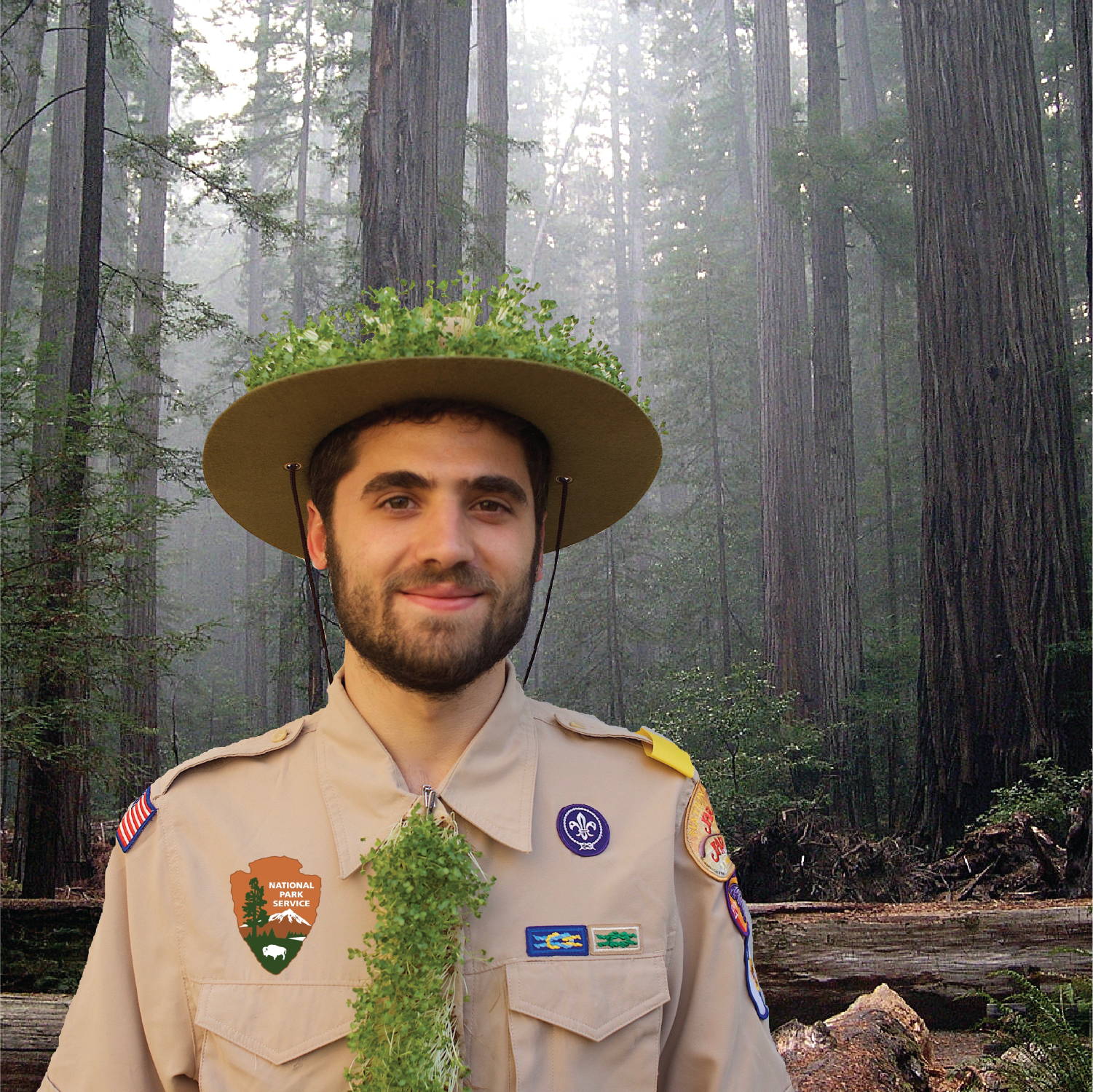 Dan's Exceptionally Accessorized Park Ranger costume was a bit more complicated to pull off, but still really easy! He dug out his Eagle Scout shirt, found an old hat, and got to work accessorizing. In the next section, we'll show you how he made his tie and hat.
Dan started with a fully grown Hearty Broccoli Seed Quilt. He removed the upper part of the Seed Quilt from the coco mat, easily pulling the roots out. If you haven't done this before - it's really satisfying!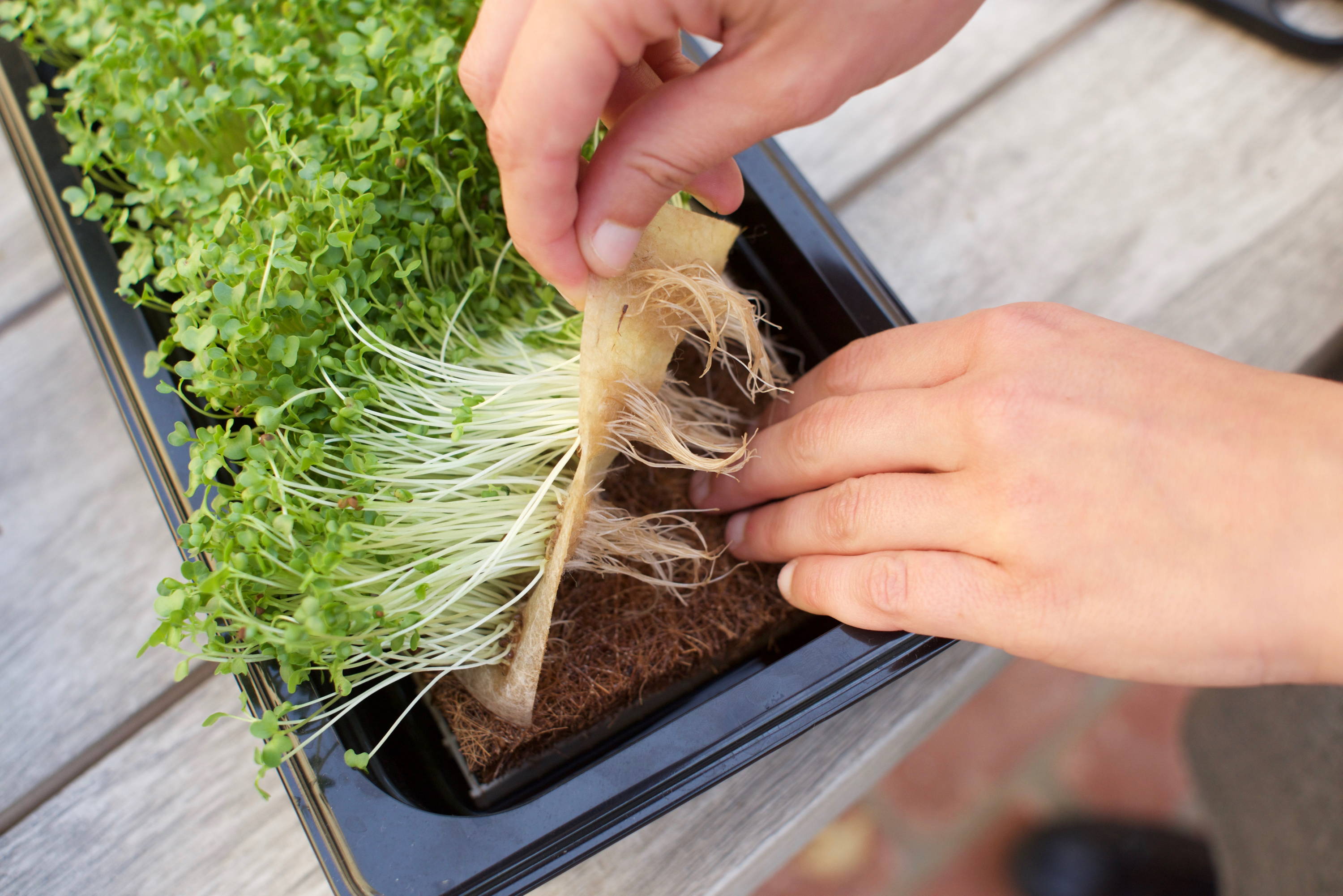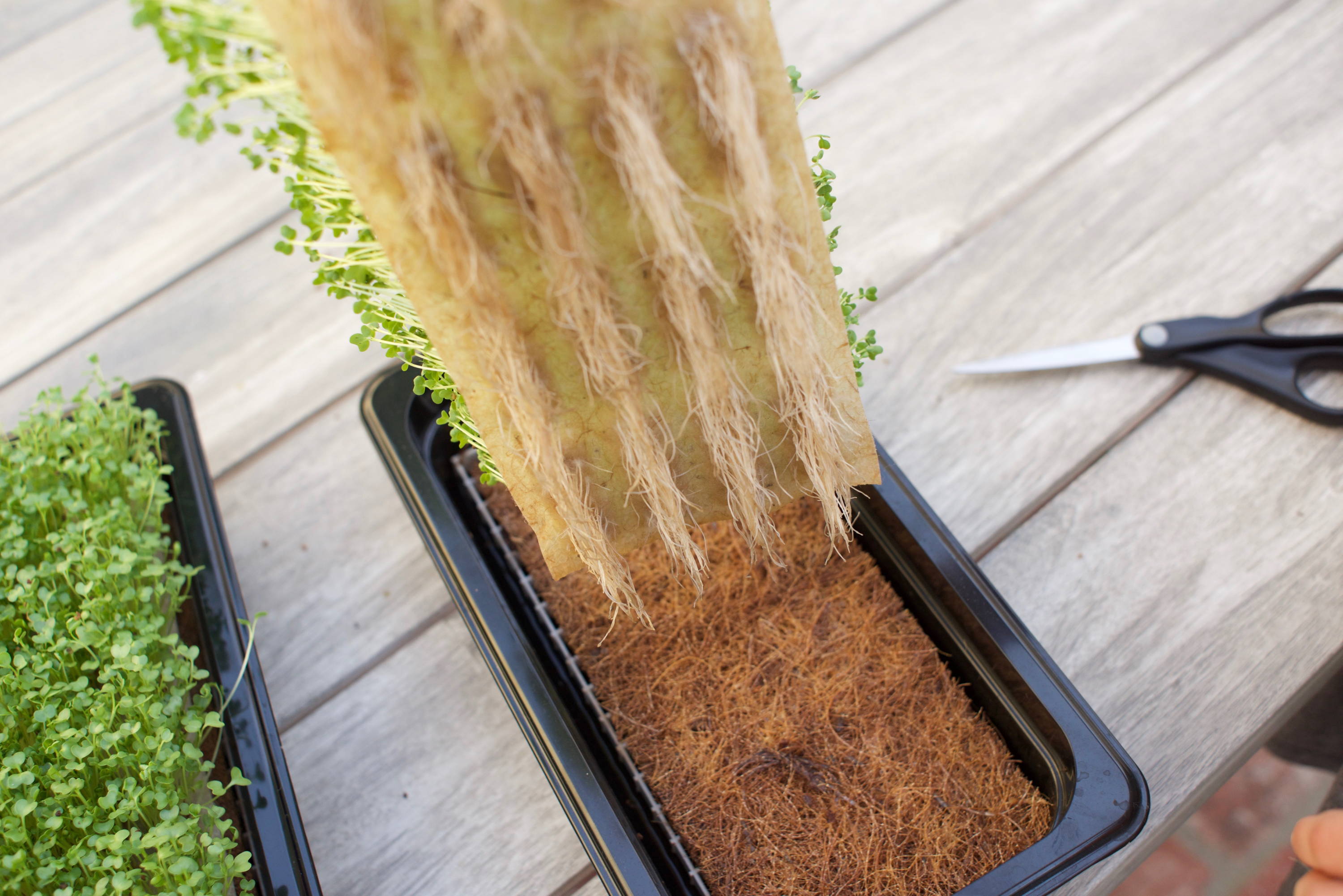 Then, Dan cut the Seed Quilt in half longways to get two strips of broccoli microgreens. He hung this on a coathanger to dry overnight. (The greens will stay fresh-looking for 24-36 hours after this, so do this the day before Halloween!)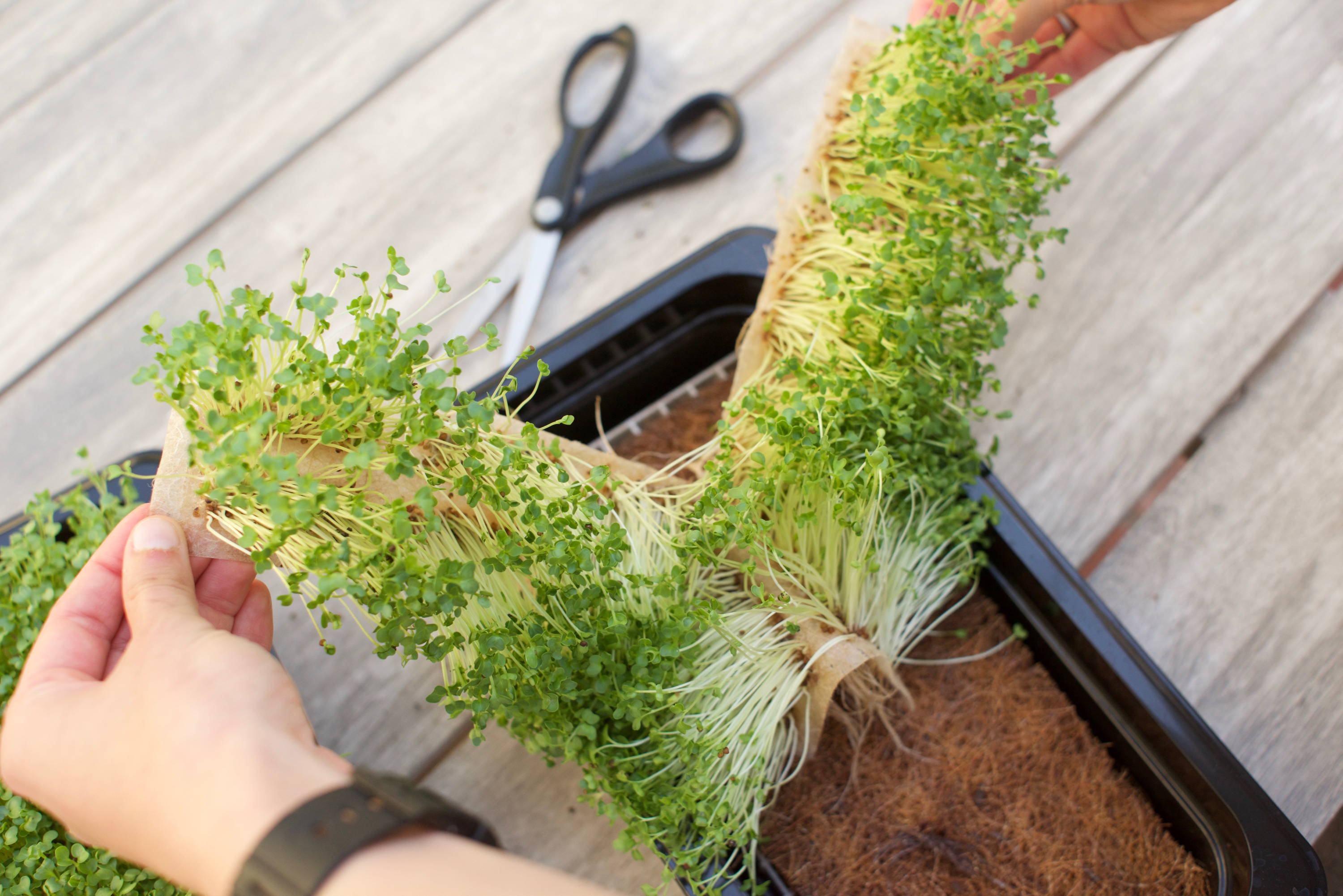 He stapled one of the strips to his hat. He used the other strip as a tie, clipping one end to his collar using a binder clip. Yep...it's that easy! If you want to be Moss Man and coat yourself entirely with greens, you'll obviously have to grow A LOT more Seed Quilts. In this case, you could clip, staple, or even sew different pieces together to make a full suit! Other ideas include Green Beard The Pirate and The Human Chia Pet. That's enough of OUR ideas, though, we can't wait to see what you make! Tag us on Instagram @hamama_greens and use #hamamahalloween.
Camille Richman
Camille is the Co-Founder of HAMAMA. She loves sharing recipes and growing tips and tricks with the HAMAMA community!